Over the years, I've been fortunate enough to study privately with some unbelievable guitar players. Two of them are: Jazz genius Joe Diorio (on faculty at U.S.C.), and session ace (and "intervallic rock" stylist) Carl Verheyen. A few years ago, I also wrote and recorded a Joe Satriani: Signature Licks book/CD pack. Obviously I gleaned a lot from that experience, to say nothing of the time spent—one on one—with Diorio and Verheyen!
The following intervallic A MINOR PENTATONIC LICK is somewhat inspired by the three aforementioned six-string wizards. It is largely based on the "5th" interval (possibly maestro Diorio's influence), gains momentum from a "sliding" approach (creating an interesting "arc/flow" in the overall line structure, sort of á la Carl Verheyen), and is capped off with a descending pattern inspired by some of Satch's fret-board moves. The entire thing is played with a wah-wah pedal used as a tone filter (i.e., activated but not manipulated).
(*You can hear the lick FAST by clicking HERE*)
(*You can hear the lick SLOW by clicking HERE*)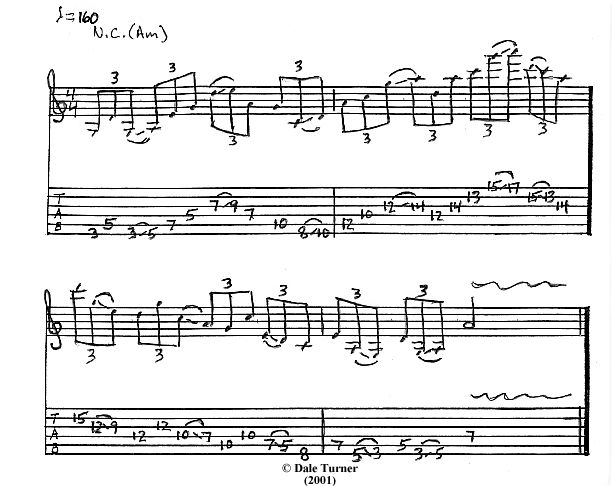 TIP#1: To come up with these types of lines yourself, it may help to get familiar with the following FIVE FINGERING PATTERNS for the A minor pentatonic scale:

TIP#2: The next step is to be able to visualize the notes found within the above scale shapes in "fifths" (and the occasional "sixth"), grouping them LATERALLY (i.e., across the fret board) like this:

TIP#3: The final ingredient is viewing the "fifths" shapes LINEARLY (i.e., along the neck), sliding them along a string pair, sticking exclusively to pitches from the A minor pentatonic scale throughout the process:

Ideally, you want to be able to execute the above "sliding fifths" approach on every string pair. (For the curious, on the MP3 of the "Linear Fifths" example above, I'm rocking the wah-wah back and forth between the "treble" and "bass" position on each beat. I did something similar with the wah on the slow version of Lick #3.) Enjoy!
Like This 100% Free Shred Guitar Lesson?
To help support this site's free online guitar lessons, please check out my brand-new "full band" album of original compositions, MANNERISMS MAGNIFIED (now available through CDBABY.com, iTunes and AMAZON.COM), featuring me performing all the instruments (voices, guitar, bass, real acoustic drums, piano, accordion, and mandolin). I also produced, arranged, engineered, and did all the artwork/illustrations—intimate audio AND visual, lol! (Details can be seen in my YouTube: ALBUM PREVIEW/documentary.) I'd love to hear your thoughts! Thank you :)










AVAILABLE THROUGH:
www.Amazon.com
www.CDBaby.com
www.MutantMall.com
iTunes
Rhapsody
eMusic
Spotify
and more!