In this Psycho Licks installment, I'm presenting a pair of A Dorian (A-B-C-D-E-F#-G) lines—both of which are executed in 5th position, and make ample use of the almighty "b5" (the note "Eb," as it relates to "A") chromatic note.
Since both lines involve carrying a certain motif across the fretboard (a repetitive pull-off pattern) and make use of a fairly consistent picking pattern, I've written in the specific fret-hand fingers used, as well as the picking I used. But feel free to make any adjustments necessary, to make it comfortable for you!
Once you get comfortable with both licks, try improvising using some of the patterns you come across. You'll probably notice that the "patterns" used pretty much involve working between two strings at a time. The motif used in Lick#1 starts on the highest string of each string pair, while the motif used throughout Lick#2 kicks off with the lowest string of each string pair.
Enjoy!
(*You can hear the lick FAST by clicking HERE*)
(*You can hear the lick SLOW by clicking HERE*)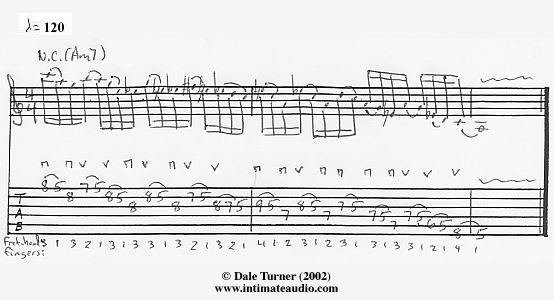 Here's Lick #2!
(*You can hear the lick FAST by clicking HERE*)
(*You can hear the lick SLOW by clicking HERE*)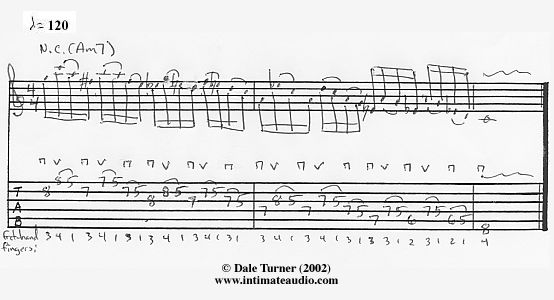 Like This 100% Free Blues-Rock Guitar Lesson?
To help support this site's free online guitar lessons, please check out my brand-new "full band" album of original compositions, MANNERISMS MAGNIFIED (now available through CDBABY.com, iTunes and AMAZON.COM), featuring me performing all the instruments (voices, guitar, bass, real acoustic drums, piano, accordion, and mandolin). I also produced, arranged, engineered, and did all the artwork/illustrations—intimate audio AND visual, lol! (Details can be seen in my YouTube: ALBUM PREVIEW/documentary.) I'd love to hear your thoughts! Thank you :)










AVAILABLE THROUGH:
www.Amazon.com
www.CDBaby.com
www.MutantMall.com
iTunes
Rhapsody
eMusic
Spotify
and more!